My goal this week is to share with you the 5 Intellectual Virtues according to Saint Thomas Aquinas. I sit down the Brother Bradley Elliott, OP of the Dominicans (and "Fellow" of the New Saint Thomas Institute) and he explains the 5 intellectual virtues and how they relate to the moral life and key topics such as pornography, art, and culture.
Click to Listen: Podcast #041: 5 Intellectual Virtues and Pornography, Art, and Culture
Podcast: Play in new window | Download | Embed
Subscribe: Apple Podcasts | Android | Email | Google Podcasts | Stitcher | RSS
If the audio player does not show up in your email or browser, please click here to listen.
NSTI Sale and Extra Bonuses End on July 8 2014:
The New Saint Thomas Institute is now admitting new Members until 11:59pm on July 8: newsaintthomas.com
Enroll this week in order to receive these free bonuses:

35% sale on Premium tuition
earn a Certificate in Theology from the New Saint Thomas Institute
a FREE copy of Taylor's book The Crucified Rabbi (retail $16.16; 162 Amazon Reviews)
3 free audio (mp3) presentations by Taylor:

How to pray the Rosary daily
How we lost Catholic Masculinity and how we can Restore It
Josephology: the Theology of Saint Joseph

Two Videos: Common Logical Fallacies in the Theology and How to Avoid Them
Hours of Theology Videos about Saint Thomas Aquinas, Saint Augustine, the Blessed Virgin Mary and other topics.

This NSTI Sale offer and bonuses expire at 11:59pm on July 8
If you would like to redeem this theology Membership offer for yourself, please click here.
If you have thought about joining the New Saint Thomas Institute for awhile, this is the week to join. We will close down enrollment at 11:59am July 8 and the tuition will be higher the next time we make spots available. You can receive the sale price and the extra bonuses listed above by signing up before 11:59pm July 8, 2014.
"I signed up for the New Saint Thomas Institute; best decision I could have made to help my faith. Well done."J Griffith
Premium Member of NSTI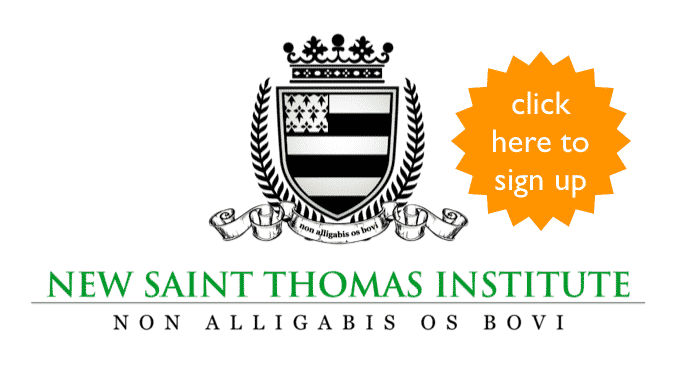 New Saint Thomas Institute: Learn More
Please Share Your Feedback:
162,788

 downloads on iTunes as of today.
SHOUT OUT: A huge "shout out" to all 205 (!) of you who wrote amazing 5-star reviews at iTunes. Please rate this podcast by clicking here and then click "View in iTunes." From there you can leave a review. I appreciate you for this! Thank you!
SUBSCRIBE: Please subscribe (FREE) to this podcast in iTunes and get a new podcast every Wednesday.
SURVEY: Please view our Podcast Listener Poll by clicking here.

Question: Tell your thoughts about this podcast by leaving a comment below. You can leave a comment by clicking here.