To celebrate the conversion of Saint Paul (Jan 25), we wanted to send you some Catholic Saint Paul theological resources: 1 video and 11 audio mp3 podcasts on Saint Paul by Dr. Taylor Marshall.
Free Video: Catholic Theological Core of Saint Paul as "en Christo"
Free audio mp3s: Catholic Perspective on Paul (11 presentations)
If you are looking for a concise book proving that Saint Paul and the New Testament is Catholic, my book The Catholic Perspective on Paul has become a go-to resource for seminaries and apologists. Today it is on sale today for 50% off on Kindle and on sale in paperback: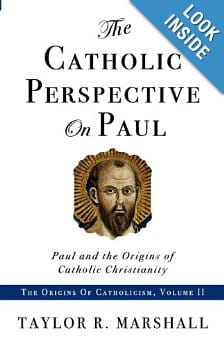 GK Chesterton once observed that the Catholic Church has been "attacked on all sides and for all contradictory reasons. No sooner had one rationalist demonstrated that it was too far to the east than another demonstrated with equal clearness that it was much too far to the west." The same may be said of Saint Paul. The history of heresy is essentially a series of contradictory positions, each claiming the authority of the Apostle Paul.
In today's video I explain how understanding Paul's "core theology" can help you explain and defend EVERY Catholic teaching and doctrine:
According to some heretics, Paul was the first corrupter of the life and doctrines of Jesus Christ. To others Paul alone preserved the true message of Christ that had been corrupted by the Twelve. Some consider Paul to have been the champion of grace, while others accuse him of yielding to the so-called Jewish legalism of Peter and James. Paul has since been accused of being too Greek, too Jewish, too gnostic, and too orthodox.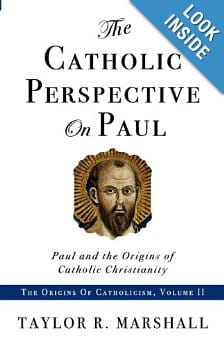 In his own day, he was held by some to be an apostle and by others to be a heretic. Martin Luther claimed Paul's authority, as did the Catholic Council of Trent. He has been called both a misogynist and a liberator of women. Some hail him as a proponent of freedom and others revile him for imposing rules against sexual freedom and social progress. Always and everywhere, Paul is pulled and tugged in opposite directions. Paul has been stretched out so thinly that his features have become faint, almost forgotten. Prophetically, Saint Peter aptly described the controversial nature of Paul's epistles:
Also our most dear brother Paul, according to the wisdom given him, hath written to you: As also in all his epistles, speaking in them of these things; in which are certain things hard to be understood, which the unlearned and unstable wrest, as they do also the other Scriptures, to their own destruction (2 Pet 3:15-16).
All the detractors of Paul stand united in their conviction that the historical Paul is certainly not the same Paul revered by the Catholic Church. There is today a deep prejudice against the so-called "Saint Paul" of the Catholic Church. They will grant that Paul was a rabbi, missionary, mystic, polemicist, author, and apostle. However, they will not grant that the man enshrined in the mosaics, statues, and stained glass of a thousand Catholic cathedrals is the Paul of history. The critics are convinced that the Catholic religion as we know it today has little to do with the historic Paul of Tarsus.
Paul is none other than a saint of the Holy Roman and Catholic Church. He spent his life wishing to bring his feet within the walls of Rome and he surrendered his head to the sword outside those very walls. Within his writings, we find the primitive and pristine doctrines of the Catholic Faith. We discover a Paul who is Catholic, a theologian who is sacramental, a churchman who is hierarchical, a mystic who is orthodox.
Please watch this video to learn more about Saint Paul:
You can leave a comment by clicking here.