Happy Feast Day of Saint Paul!
When I was Protestant, we relished in the belief that the Apostle Paul was thoroughly Protestant. We considered him to be the proto-Martin Luther. We believed that Paul taught:
justification by faith alone
once saved always saved
authority of Scripture alone (no Tradition)
sacraments as symbolic
However, there were always those little verses in Paul that made me feel uncomfortable. Here were things that we tried to ignore:
Paul rejoiced in being celibate – I didn't know any celibate Protestant pastors that spoke like Paul did
Paul called himself "Father" in relation to his converts – he once refers to his ministry as "priestly"
he speaks of baptism transformative and saving
he speaks of obedience and good works quite often
he holds out the possibility that he might forfeit his own salvation through infidelity
This passages kept bubbling up until at last I saw that Protestantism couldn't hold all the tension within these passages…and so I became Catholic.
After entering the Catholic Church, I wrote a simple and systematic explanation of nearly every major Catholic doctrine within the writings of Saint Paul. Not only does the book walk you step by step through Paul's thoroughly sacramental and ecclesial theology, it also includes an appendix with all the verses in Paul – a kind of Pauline cheat sheet for Catholic theology. This appendix will save you hours of time looking for passages. It already arranged for you.
To celebrate Saint Paul's own conversion, this book is half price today (and down to only $0.99 on Kindle): The Catholic Perspective on Paul. This is a great resource for anyone interested in Apologetics, Pauline theology, New Testament studies, or for anyone who wants to become familiar with Paul's letters. Check out the Table of Contents and read a free sample here: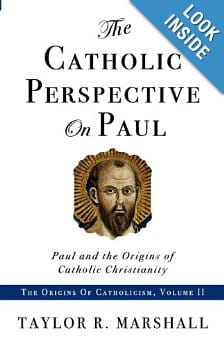 If you've read the book already, please leave a review by clicking here. I'd love to read your thoughts and I'd be grateful for your review.
Saint Paul, pray for us.
Happy Feast Day of Saint Paul,
Taylor Marshall
Download My Book for Free
Thomas Aquinas in 50 Pages
Over 15,000 copies downloaded! This is a quick and easy way to learn the basic philosophy and theology of Saint Thomas Aquinas. The Popes of the last 300 years have endorsed St Thomas Aquinas. Learn more through this accessible resources. Download it for free.