I spent just over three weeks in Rome teaching Catholic seminarians through the Rome Experience, and here are 10 tips that to making the most out of your visit to Rome: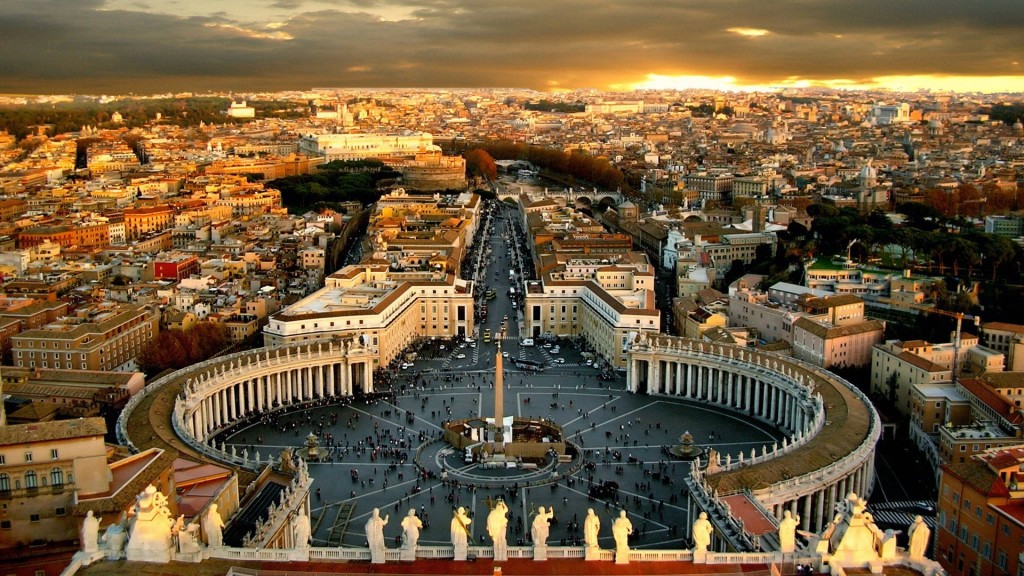 1 You should visit the 4 Major Basilicas of Rome: St Peter's (Vatican), St Paul's outside the Walls, St Mary Major, and St John Lateran. These are the four grandest churches in Rome and each will take your breath away. My favorites are St Peter's and St Mary Major.
2 The best part of Rome are the off-the-path churches. Saint Peter's Basilica is amazing, but I find myself enjoying and communing with God in a special way in churches such as St Agnes in Agony off the Piazza Navona or at Sunday Mass in the St Maria Trastevere.
3 If you're healthy, walk everywhere. Try not to use cabs or the metro. Walking a city is the best way to know a city. If you can't walk, go with someone who knows Rome well.
4 Bus tour. Speaking of getting to know Rome, as cheesy as it sounds, I recommend getting on one of those tourist double decker buses and riding around the city at least once. It will provide you with a global "view" of the city.
5 Read a good book on Christian Rome before you arrive. I recommend my book The Eternal City: Rome and the Origins of Catholicism for Catholic pilgrims looking for Catholic insights into the history and theology of Rome.
6 Eat meals at scenic Italian spots. Will food cost more on the piazza of the Pantheon or on Piazza Navona? Of course! But it's worth it. Watch people. Listen to the musicians. Watch performers. One evening, I was eating alone on the Piazza Navona and two married British couples on an anniversary trip to Rome invited me to their table and even bought me champagne. We had a great time talking about Latin. It was a fun and magical evening that I'll never forget – and it would have never happened if I had dinner at a cheap kabob shop off the Tiber.
7 Pasta is great, but it's not the end-all be-all in Rome. Italian food isn't all pasta. I rarely consume pasta in Rome. I spend my meals loving the cured pork dishes, the veal, the cheese, and the vegetables. If you are into pasta, some of the best pastas are those that are lightly topped with sauces or fine oils. Quality over quantity.
8 Everyone raves about Roman gelato. But after living there for almost a month, I learned that there is gelato…and then there's real gelato.
Just as wine comes in a variety of value, even so gelato. Through priests I met, I was introduced to interesting flavors that I would have never tried. There are an array of nut flavors that I highly recommend. Pistachio, of course, but also try Bacio (chocolate hazlenut – like Nutello!!!), Mandorla (almond), and Castagna (chessnut). And of course blend with chocolates and dark chocolate and berry flavors. I found that gelato sold at tourist centers and from moveable carts tended to be the worst in the city.
9 Prayer at holy sites. Rome is a holy city of martyrs, relics, saints, tradition, and glory. But you can get so caught up in seeing everything that you don't talk to God. Don't just gawk at Michelangelo's Pieta and take photos for Instagram. No, kneel down in front of it and pray. Don't rush from church to church. Find the tabernacle and talk to Jesus about your pilgrimage.
10 Live in the moment and feel Rome. Here are some examples from my own experience: Watch an Italian cat curl up under an ancient statue. Smile at a newly wed couple cuddling near a fountain. Sit in an ancient Roman church and watch a wedding of two people I've never met. Randomly meet seminarians on the street and invite them to lunch. Pass the peace in Italian at a local Mass.
There's much more that I could say, but these 10 are the big ones with 1, 2, 9, and 10 as the most important.