According to Saint Thomas Aquinas, there are Four Sections to Hell: Gehenna, Purgatory, and Limbo of the Children, and Limbo of the Fathers. In this video, I explain the descent of Christ into Hell (as we say in the Apostles' Creed) and explain these four "sections" through the biblical eyes of Thomas Aquinas.
We also break down some of the Latin, Greek, in Hebrew words into a simple way so that you can understand them. Don't miss this complimentary video from the New Saint Thomas Institute:
Are you having problems watching the video in your browser? Click here to watch it.
If you're a Member of the New Saint Thomas Institute, you have instant access to over 50 videos/mp3s like this. If you're not a Member, you need to enroll today. Here's why…
Fall Enrollment Closes Tuesday Oct 14
Tuesday October 14 is the cut off date for new member Fall Enrollment into the New Saint Thomas Institute. If you want to get a 38% off scholarship, work toward an online Certificate in Catholic Theology, get some free bonuses (free books and mp3 downloads), and help support orphans and feed the hungry, please join today before the deadline. We close down enrollment at 11:59pm on Tuesday Oct 14. Once it's closed, it's closed (and tuition will go up again). If you've been on the wall over whether to join, this is the day – and there's a 21 day full refund guarantee so you risk nothing.
Learn more about all the benefits you can receive from NSTI, see your bonuses, and learn about how it all works, by clicking here.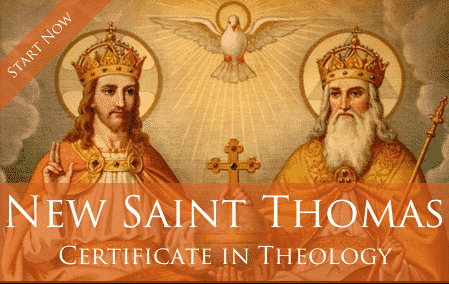 to Jesus through Mary,
Taylor
PS: For all those 1,000+ of you who are already Members of the New Saint Thomas Institute, thank you for making this possible.