Padre Pio is one of my favorite saints. Below is a nice little video containing rare film footage from the everyday ministry of Padre Pio's life. It's surreal seeing the saint on camera.
Padre Pio Rare Footage
If you cannot see the video in your email or browser, please click here.
Stigmata of Padre Pio Compared to Saint Francis' Stigmata
For those that don't know about Saint Pio, he bore the sacred stigmata (five wounds of Christ) in his body for exactly 50 years and then died. These unexplainable wounds were verified by skeptics, doctors, and scientists. I made a short video comparing the stigmata of Saint Pio to the stigmata of Saint Francis. The stigmata of one saint differed from the other. Here's my video on the topic.
If you cannot see this second video in your email or browser, please click here.
Placing the stigmata aside, Saint Pio's life is filled with sanctity, heroic act, and profound love for Christ and his neighbor.
Did you like this post? Get Dr. Taylor Marshall's latest book Thomas Aquinas in 50 Pages for FREE by clicking here!
…or just click on the book cover below to get the book for FREE: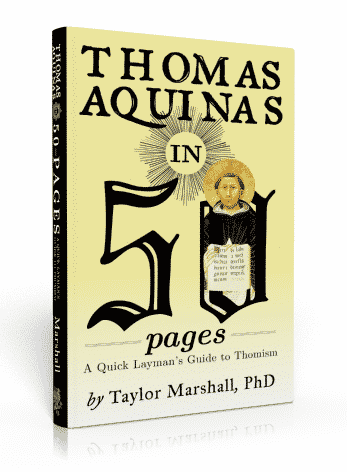 Question: Had you seen this video of Padre Pio before? What are your thoughts? Is it strange to see a saint on camera? Is Pio a new Saint Francis for our time? You can leave a comment by clicking here.