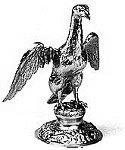 In England, the Blessed Virgin appeared to Saint Thomas Becket andgave  him an eagle-shaped ampulla filled with holy oil, and a golden spoon to be used to crown England's Kings. The ampulla was lost for two centuries, but was discovered before Henry IV's coronation in 1399.
When the oil it contained was used to anoint the Protestant Queen Elizabeth I in 1559, it is said to have gone rancid; she is said to have remarked that "the grease smelt ill." Whether these legends are true or not, the eagle-shaped ampulla is now reserved at the Tower of London with the rest of the Crown Jewels.
HT: Fish Eaters
Download My Book for Free
Thomas Aquinas in 50 Pages
Over 15,000 copies downloaded! This is a quick and easy way to learn the basic philosophy and theology of Saint Thomas Aquinas. The Popes of the last 300 years have endorsed St Thomas Aquinas. Learn more through this accessible resources. Download it for free.