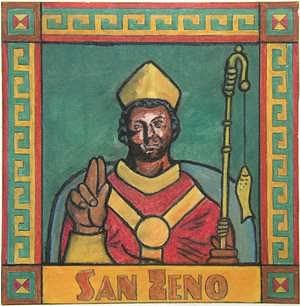 I just got back from Colorado. We did some fishing while we were up there and caught some trout. My eldest son informed me that Saint Zeno is the patron saint of fly fisherman.
Zeno (d. 371 or 380) is the patron saint of fly fishermen, the city of Verona, newborn babies as well as children learning to speak and walk.
He is most often represented with fishing-related items such as a fish, fishing rod, or a bishop holding a fishing rod, or with a fish hanging from his crozier. Zeno likely fished with a fly since this practice was popular in his time.
The other patrons of fishing: Saint John, Saint James, Saint Andrew, and Saint Peter.
Download My Book for Free
Thomas Aquinas in 50 Pages
Over 15,000 copies downloaded! This is a quick and easy way to learn the basic philosophy and theology of Saint Thomas Aquinas. The Popes of the last 300 years have endorsed St Thomas Aquinas. Learn more through this accessible resources. Download it for free.